Rapid Transit is the third route for Train Sim World. It features the S2 line of the S-Bahn Mitteldeutschland in Leipzig from Dessau HBF to Markkleeberg-Gaschwitz via Leipzig HBF. It features one locomotive, the DB BR 1442, also known as the Bombardier Talent 2
The first hint is a drawing of the TSW logo, with a highly obscurred train and staff member in the background.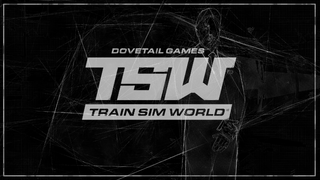 Some have theorised that the train in the background is a German ICE train. Other guesses have included an Austrian railjet or an Amtrak electric locomotive such as the ACS-64.
Some have also guessed that it could be representative of a TGV or Eurostar, citing the very similar shapes of the train and staff uniform.
A tweaked version of this screenshot was later shared on the Train Simulator Twitter page, prompting many to suggest that it could be a German DB BR 442 'Talent 2' EMU.
The image shows details to the side of the train added which many believe are similar to the window design on the DB BR 442 EMU.
A further tweaked version of the screenshot appeared on the Train Simulator Twitter page with repeated suggestions that the featured train is a DB BR 442 or another train from the Bombardier Talent series of EMUs. It is believed that the route will now be in either Germany or Austria.
The fourth hint was again a further tweaked screenshot. This time the name of the add-on was revealed, Rapid Transit. The locomotive is still believed to be a DB BR 442. DTG have said more information will be revealed on the 1st December.
Rolling Stock
Edit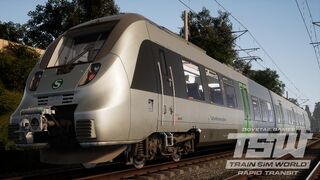 DB BR 1442 - A variant of the Bombardier Talent 2 series of locomotives operated by S-Bahn Mitteldeutschland, a subsidiary of Deutsche Bahn. 80 of these locomotives were produced between 2013 and 2015 and have a maximum speed of 160 km/h.
The Rapid Transit route covers S2 of the S-Bahn Mitteldeutschland from Dessau HBF to Markkleeberg-Gaschwitz via Leipzig HBF and Bitterfeld. The route is over 71 km in length and contains 23 stations. The route is set in mid-2016 when the route survey was undertaken. Whilst many passenger & freight services operate along the route, only the S-Bahn Mitteldeutschland trains are featured in the add-on.
Tutorials
Edit
Scenarios
Edit
Services
Edit
Like the previous routes, Rapid Transit has a 24-hour service mode timetable. The full timetable can be seen here:
https://drive.google.com/file/d/0BzJpsnlE33snRjN0bTlrXzNQd1NEckN1Y2pnQl94ZXJlZ0Nr/view
Route Diagram
Edit
| Location | Image | Kilometres |
| --- | --- | --- |
| Dessau HBF | | 0 |
| Dessau Süd | | 4.3 |
| Marke | | 11.3 |
| Raguhn | | 14.8 |
| Jeßnitz | | 18.0 |
| Wolfen | | 20.4 |
| Greppin | | 22.6 |
| Bitterfeld | | 25.6 |
| Petersroda | | 32.1 |
| Delitzsch unt Bf | | 39.0 |
| Zschortau | | 43.7 |
| Rackwitz | | 48.6 |
| Leipzig Messe | | 53.6 |
| Leipzig Nord | | 57.2 |
| Leipzig Hauptbahnhof (Tief) | | 59.9 |
| Leipzig Markt | | 60.5 |
| Leipzig Wilhelm-Leuschner-Platz | | 61.2 |
| Leipzig Bayerischer Bahnhof | | 61.8 |
| Leipzig MDR | | 63.0 |
| Leipzig-Connewitz | | 65.3 |
| Markkleeberg Nord | | 67.0 |
| Markkleeberg | | 68.0 |
| Markkleeberg-Großstädteln | | 69.9 |
| Markkleeberg-Gaschwitz | | 71.3 |
Achievements
Edit
Green Light: Completed the BR 442 Basic Introduction
Mass Transit: Completed 442 passenger boarding tasks
Rapid Transit: Reach the maximum speed of the BR 442 (160 km/h)
Top Talent: Operated 44.2 km in the BR 442
Safety First: Acknowledged 500 SIFA alarms
Leipzig Legend: Completed all of the available services
Regional Rider: Rode as a passenger for 44.2 km