This tutorial shows how to load coal in the Sand Patch Grade. Basic knowledge of locomotive operations as shown in tutorial 1 is presumed.
CSX Heavy Haul
Edit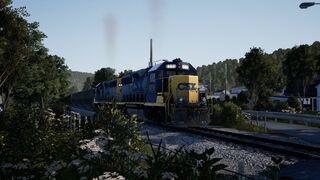 To practice coal loading on CSX Heavy Haul, use service U876-B at 16:00. In this example, the
GP40-2
is used. The service starts with as shown in the image to the right with two GP40-2s hauling an empty coal train. Firstly, set up the train before driving forwards toward the first destination.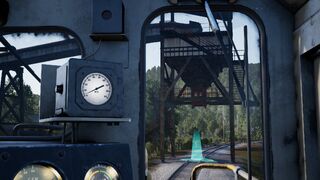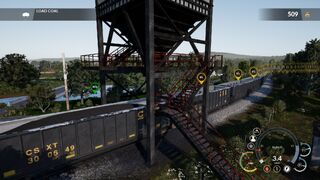 When you approach the coal loading facility at Shaw Mine, reduce your speed to about 3 mph or 5 km/h. Use the dynamic brakes if necessary to control your speed. If you do not have the HUD activated, activate it now. With the HUD active, you can monitor the amount of coal in each coal wagon. As shown in the image to the right, drive under the loading facility. When a coal wagon is 75% full, the yellow marker will turn green. Make sure that all of the wagons are filled to at least 75%.
If you have any questions concerning this tutorial or would like to suggest a future tutorial, please leave a comment below.