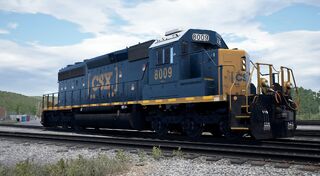 The CSX Yn3b is the current CSX livery used by CSX Transportation since 2011. This livery has been included in Train Sim World since its release in March 2017.
The livery features a blue locomotive with a yellow nose. The newest version of the CSX logo, called "How Tomorrow Moves", appears in yellow on the side and in blue on the short and long heads of the locomotive.
The livery supersedes the previous Yn3 and Yn2 liveries used by CSX also used in CSX Heavy Haul.
Locomotives
Edit